Posted on May 15, 2017 at 9:12 am | No Comments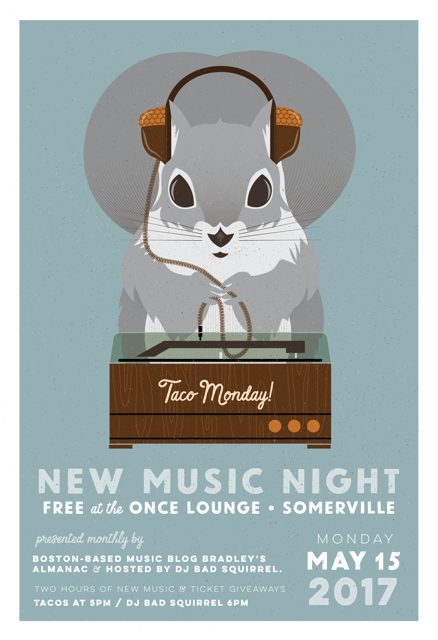 The May 2017 edition of NEW MUSIC NIGHT is going down this very evening at the wonderful ONCE Lounge in Somerville starting at 6pm. For the uninformed: Two hours of nuthin' but new songs spun between free ticket giveaways for a bunch of upcoming Boston-area shows, all while you chow down on some super-tasty tacos. It's a fine time indeed, a nice way to start the week, and I say that not just because I'm your sonic selector. I simply love hangin' at the place.
So what can ya win? How about pairs of tickets for imminent local appearances from Will Johnson (Centro-matic), John Moreland, Mary Timony (as Helium!), Land of Talk (!!!), Psychic Dog (album release!), When Particles Collide, PowerSlut, The Knock Ups, Charly Bliss, Yucky Duster, Lost Dog, Coco Hames (of the Ettes), and Little Bandit. Just show up, throw your entry in a Chinese take out container, and cross yer fingers that I call your name.
For the curious, below lies a look at last month's playlist, and if you want to dig deeper, check out my past & future 'Nac Tracks monthly streaming Soundcloud playlists of newly-discovered songs. If you can't make it tonight, shoot for next month's NMN on June 12th from 8-10pm.
NEW MUSIC NIGHT playlist
April 2017 Edition – 4/24/17
ONCE Lounge, Somerville, MA
01. Marissa Nadler – "Rosemary"
02. RRing – "100 Dollar Heat"
03. Tara Jane O'Neil – "Blow"
04. Thurston Moore – "Smoke Of Dreams"
05. Will Johnson – "Predator"
06. Doug Tuttle – "Can It Be"
07. Adopted Highways – "Up"
08. Eyelids – "Falling Eyes"
09. Waxahatchee – "Silver"
10. Big Thief – "Mythological Beauty"
11. Sheer – "To Love And Feel Alive"
12. Flock of Dimes – "Potential"
13. TW Walsh – "Terrible Freedom"
14. The Vacant Lots – "Night Nurse"
15. Beach Fossils – "This Year"
16. The Drums – "Blood Under My Bed"
17. Land Of Talk – "This Time"
18. Coco Hames – "Tiny Pieces"
19. Happyness – "Bigger Glass Less Full"
20. The Jesus and Mary Chain – "Always Sad"
21. The The – "Can't Stop What's Coming"
22. The Mountain Goats – "Andrew Eldritch is Moving Back to Leeds"
23. Future Teens – "Party Ethic"
24. Chain & the Gang – "Certain Kinds Of Trash"
25. Guided By Voices – "Dr. Feelgood Falls Off the Ocean"
26. Broken Social Scene – "Halfway Home"
27. Black Helicopter – "And I"
28. Angus – "I'm An Idiot"
29. Kestrels – "Thorn" (MBV cover)
30. The Van Pelt – "His Steppe Is My Prairie" (2017 remaster)
32. Helium – "Hole In The Ground" (2017 remaster)
33. The New Pornographers – "Whiteout Conditions"
34. Andrew Cohen & Light Coma – "Repack"
35. The New Year – "Myths"
36. Slowdive – "Sugar for the Pill"
37. Sharon Van Etten – "The End Of The World" (Skeeter Davis cover)
Posted on May 11, 2017 at 8:49 am | No Comments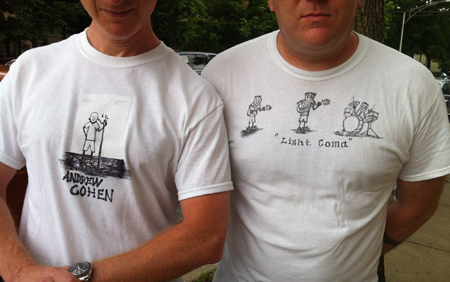 Never underestimate the impact of a well-chosen analogy. Seems we owe the welcome return of songwriter/guitarist Andy Cohen to a timely turn of phrase from Light Coma drummer Jim MacGregor, who one night caught Cohen in the midst of an existential "should I keep making music or not?" crisis. After more than 25 years of playing with incomparable, incredible rock trio Silkworm and its worthy successor Bottomless Pit (both with co-songwriter/guitarist Tim Midyett), Cohen found himself with dwindling freetime and a side-man role in Midyett's excellent Mint Mile project. On the verge of packing it in, as so many (and sometimes not enough) middle aged rockers do, it took one tempting offer from MacGregor to keep him in the game: "We could be your Crazy Horse".
As recounted in the latest episode of the Crashing Your Planet podcast, that's exactly what lead to the team up of Andrew Cohen & Light Coma, who will issue their debut LP, "Unreality", on June 2nd through the esteemed Comedy Minus One record label. It's a fitting home for the album, as CMO has become the defacto source of all things Silkworm-centric during the past decade, with several Bottomless Pit releases, SKWM reissues, and related projects scattered among other top-notch rock records.
As a longtime admirer of Andrew Cohen's songwriting and guitar playing, it's a massive honor to debut a track from "Unreality" here on the Almanac. "The Usual" is one of three acoustic songs from the record, laid down before he hooked up with Light Coma. Stream it here…
Comedy Minus One previously shared the track "Repack"…
"Despite my intention to retire, it didn't let itself happen." – Andy Cohen
Pre-order Andrew Cohen & Light Coma's "Unreality" LP here, and if you want to celebrate its release in person, make your way to the Township in Chicago on May 28th for a special Comedy Minus One show with OUT, The Rutabega, Mint Mile, and of course, AC&LC. My Boston -> Chicago flight has already been booked.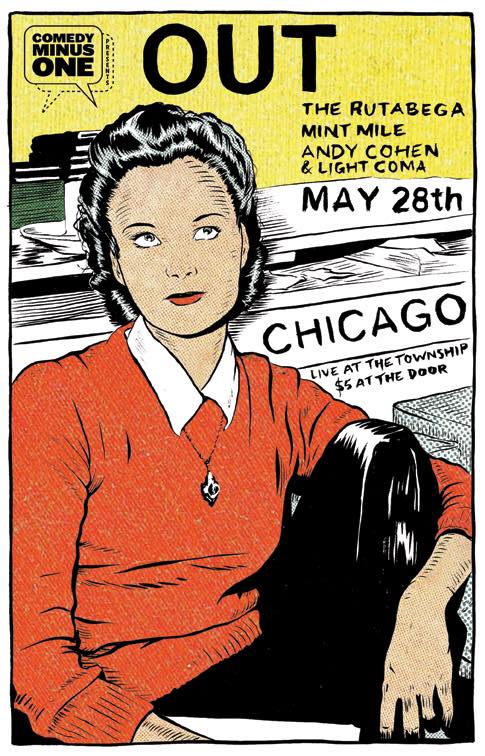 Posted on March 25, 2017 at 8:37 am | No Comments
Lend me yer eyes and ears, Boston-centric people, and allow me to tell you about a pretty special show happening tonight in Somerville: A three-band bill at the ONCE Lounge on Highland Avenue, featuring the return of a local fave, the first-ever area appearance by two excellent NYC-based combos, and a pre-and-between set soundtrack spun by a certain DJ Bad Squirrel. (uh, that would be me)
Headlining is Boston's own shoe-pop-dream-gaze quartet GOLD MUSE, who rose from the ashes of the much-beloved Soccer Mom in 2015, and haven't played out since last September. The foursome spent the winter months hibernating in their practice-cave, fine-tuning a slightly new lineup that now includes ex-Soccer Mom drummer Justin Kehoe (last seen playing in the touring config of New Dog). So, yes, that means Gold Muse is officially 3 parts Soccer Mom and 1 part Deb Warfield (Swirlies/Shenzou 5/Broken River Prophet). Great things await.
In the center spot: The mighty SAVAK, whose debut LP was one of my favorite records of last year, and are finally making the drive north from NYC to share their songs with us. I'll forego descriptors and give you their peerless pedigree: Ex-members of Obits, Holy Fuck, Nation of Ulysses, Edsel, and The Cops. If that ain't to get you there, just check out the video for "Alive In Shadows" and stream the track "Reaction" below. That should do it.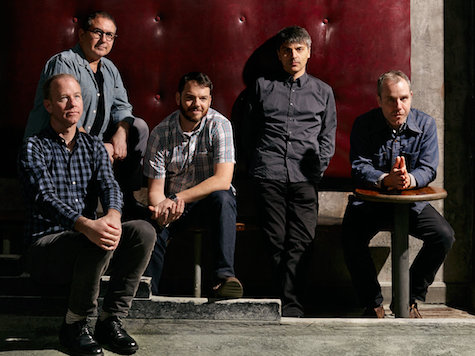 Easing us into the evening will be NYC's LAKE RUTH, also playing their first-ever Boston-area show. They made their recorded debut last year with a couple singles and June's "Actual Entity" full-length, and have already released two new songs this year: The lead-off track from The Blog That Celebrates Itself's latest dreampop compilation, and the Broadcast-esque single "Pictures From Home". Have a listen to both below…
I've been wanting to catch SAVAK on stage since I first heard 'em, so the fact that they're playing a tonight in ONCE's cozy upstairs lounge with one of Boston's best, and bringing another great NYC band with them, is a true treat. To be able to fill the before-and-between set hang time with some of my favorite songs will be my pleasure. Advance tickets here, doors (and DJing) at 8pm, bands on at 9. Join us tomorrow night, won't you?
Posted on March 23, 2017 at 12:23 pm | No Comments
Did you skip New Music Night at ONCE in Somerville last week? No worries, I've got you covered. While you may have blown your chance to win one of several pairs of free show tickets I handed out during the two-hour DJ set, and missed out on some truly tasty tacos, at least you can check out the playlist here. Small consolation, I know. Some of the songs are streamable below, others you'll have to hunt down (maybe on my monthly playlists?), and a few include a little extra info.
Join us next month at ONCE on Monday, April 24th and avoid any potential lingering regret.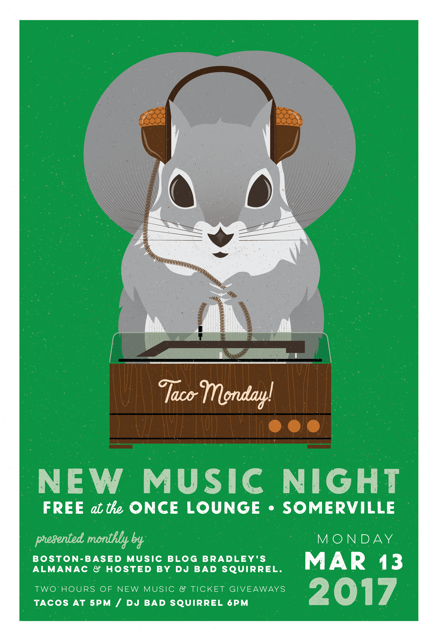 NEW MUSIC NIGHT playlist
at the ONCE Lounge, Somerville, MA
on Monday, March 13th, 2017
01. Will Johnson – "Childress (To Ogden)"
From his "Hatteras Night, A Good Luck Charm" LP, out this week. The former Centro-matic frontman plays the Sinclair in Cambridge on 6/8 with John Moreland.
02. David Bazan – "Make Music"
From the just-released "Care" LP.
03. The Shins – "Rubber Ballz"
04. Gregory and the Hawk – "She's An Angel" (TMBG cover)
An exclusive bonus recording for GatH Patreon supporters.
05. Lambchop – "Old Masters"
Playing Allston's Brighton Music Hall with Animal Hospital on March 28th.
06. Aimee Mann – "Goose Snow Cone"
From her almost-available "Mental Illness" LP.
07. Girlpool – "123"
Opening track from their upcoming LP, "Powerplant".
08. Real Estate – "Stained Glass"
From their just-released "In Mind" LP.
09. Terry Malts – "It's Not Me"
New single " target="_blank">on Slumberland Records. Tour hits O'Brien's in Boston on April 17th.
10. Anders Parker – "High Flying Bird"
From his upcoming LP, "The Man Who Fell From Earth". Tour with Son Volt hits the Paradise in Boston on April 6th.
11. Robyn Hitchcock – "Mad Shelley's Letterbox"
From his forthcoming self-titled record on Yep Roc.
12. The New Pornographers – "This Is the World of the Theater"
From their upcoming "Whiteout Conditions" LP.
13. The New Year – "Recent History"
First taste of their forthcoming "Snow" LP.
14. Mark Eitzel – "The Last Ten Years"
Off his latest Merge Records LP, "Hey Mr. Ferryman". He plays ONCE Somerville with Howe Gelb on April 11th.
15. Spiral Stairs – "The Unconditional"
Off the former Pavement member's upcoming solo LP, "Doris and the Daggers".
16. Sheer – "Shut It Off"
From their "Psychic Quarry" EP, due out April 28th on Native Sound.
17. Future Teens – "In Love Or Whatever"
Off their brand new "Bored and Alone" EP.
18. Field Nurse – "Summer Spacecraft Motorhome"
Title track from their just-released debut EP.
19. Lake Ruth – "Pictures from Home"
Latest single from this NYC-based band, who will make their Boston debut this weekend at ONCE with SAVAK & Gold Muse. See you there, I hope.
20. Bill Botting & the Two Drink Minimums – "Treating You Right"
Allo Darlin'bass player extraordinaire has a backing band & a brand new LP.
21. Filthy Friends – "Any Kind Of Crowd"
Members of Sleater-Kinney, REM, Young Fresh Fellows, & more formed a super-duper group. 7-inch coming out on Record Store Day. The Best Show previewed this track (at the 5-minute mark).
22. Funeral Advantage – "Shining"
From the Boston-based band's latest EP, "Please Help Me".
23. Angus – "I Don't Sleep"
One of two new songs from this Massachusetts-based band (digging their Bandcamp pricing model).
24. Juliana Hatfield – "Wonder Why"
From her upcoming "Pussycat" LP, out next month on ALR.
25. Monster Movie – "Going Backwards"
Long-running quartet featuring Slowdive guitarist Christian Savill returns with solid new stuff. LP out next week on Graveface.
26. No Thank You – "Serenity Song"
From the Philly trio's new record, "Jump Ship".
27. The Darling Buds – "Guess The Good Parts"
Yes, those Darling Buds. Their first recorded material over 2 decades, the "Evergreen" EP, arrives next month on Oddbox Records.
28. Charly Bliss – "Glitter"
This NYC quartet's debut record, "Guppy", is out on 4/21 via Barsuk.
29. Early Riser – "The Nevers"
First taste of their debut full-length, out later this year on Anchorless/A-F Records.
30. No Hope/No Harm – "Pony Boy"
Third song released from this Boston-based band (featuring Aaron Perrino of the Sheila Divine & Luke O'Neil of the internet).
31. Pile – "Leaning On A Wheel"
Another killer track off their upcoming LP, "A Hairshirt of Purpose", out next week on EiS.
32. Jason Loewenstein – "Machinery"
The return of solo-style Jakerock. Been way too long, but damn, this song was worth it. Grab the 7-inch. LP on the way.
33. OUT – "End Times"
Straight outta Kalamazoo, their debut full-length is out now on Comedy Minus One. And I'm listening to it as I write this. Hot damn.
34. Thurston Moore – "Cease Fire"
First shared song from his upcoming solo record, "Rock N Roll Consciousness", out next month on Caroline.
35. Beach Slang – "Roadrunner" (Modern Lovers cover)
From Vol. 2 of their "Here, I Made This For You" covers EPs.
36. Afghan Whigs – "Demon In Profile"
First single from their next record, "In Spades", out May 5th on Sub Pop.
37. Tobin Sprout – "When I Was A Boy"
The Guided By Voices co-conspirator has a new solo record, "The Universe and Me", on Burger Records. He plays Brighton Music Hall in Boston on 4/23 with DTCV.
38. Magnetic Fields – "Be True To Your Bar"
Stephin Merrit & co. have released another must-own epic. "50 Song Memoir" is out on Nonesuch.
For your calendar: Monday, April 24th at the ONCE Lounge in Somerville, MA: The next New Music Night. Note the special start time of 6:30pm, when I'll start spinning and handing out tickets…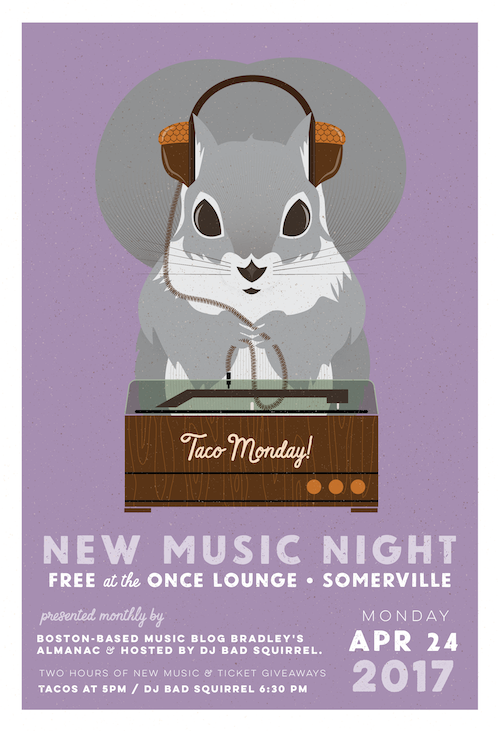 Posted on February 18, 2017 at 3:35 pm | No Comments
The first New Music Night of the #SCROTUS era happened last week at the ONCE Lounge in Somerville, Massachusetts, and it I'm going to guess that the lighter-than-usual attendance was due to a certain sporting event that took place the night before. Glad I had an industrious crew of politician-targeted-postcard-writers hanging out to keep me company while I played a couple hours of new songs for them and handed out some free Boston-area concert tickets.
Here's a rundown of the evening's playlist. Mark down Monday, March 13th on your calendar for the next one…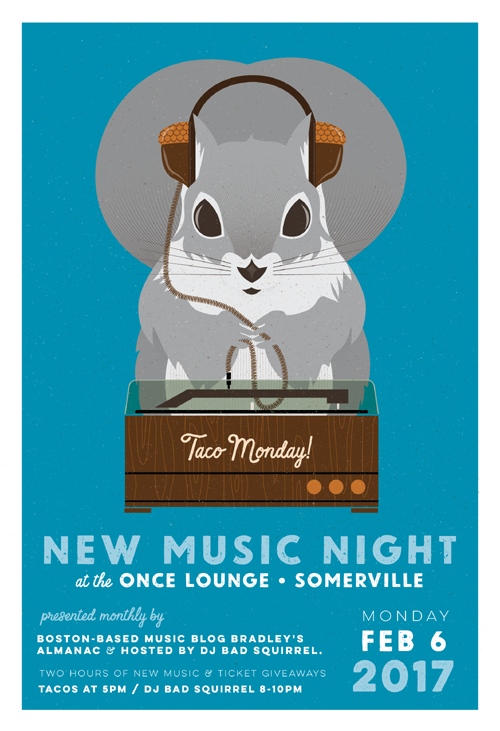 NEW MUSIC NIGHT playlist
at the ONCE Lounge, Somerville, MA
on Monday, February 6th, 2017
01. Peter Silberman – "Slips Away"
[ from the Antler's frontman's new solo LP ]
02. Hope Sandoval and the Warm Inventions – "A Wonderful Seed"
03. Julien Baker – "Funeral Pyre"
04. The Proper Ornaments – "Memories"
05. Father John Misty – "Ballad of the Dying Man"
06. Tennis – "Fields Of Blue"
07. Joel R.L. Phelps & The Downer Trio – "Blinding Light"
[ new EP of songs recorded during their last LP sessions ]
08. Real Estate – "Darling"
09. Transona Five – "Trucker Talk Ch. 3"
[ from their just-released 2xLP collection / stream it ]
10. Self Defense Family – "In Those Dark Satanic Mills"
11. Shadow Band – "Eagle Unseen"
12. Slowdive – "Star Roving"
13. Beach Slang – "Sometimes Always" (JAMC cover)
[ from their new covers EP ]
14. Mount Eerie – "Real Death"
15. The New Pornographers – "High Ticket Attractions"
[ from their upcoming "White Out Conditions" LP ]
16. Guided By Voices – "Hiking Skin"
17. Robyn Hitchcock – "I Want To Tell You About What I Want"
18. Monster Movie – "Shouldn't Stray from the Shadows"
[ from their upcoming "Keep the Voices Distant" LP ]
19. OUT – "Wound Up"
[ from their now-available debut LP, "Swim Buddies" ]
20. No Thank You – "Juicy J"
[ from their almost-out "Jump Ship" LP ]
21. The Night Cafe – "You Change With The Seasons"
22. Clap Your Hands Say Yeah! – "Down (Is Where I Want To Be)"
23. The Sun Lions – "Shitstorm"
24. Bleached – "Can You Deal"
25. British Sea Power – "Bad Bohemian"
[ from their upcoming "Let The Dancers Inherit The Party" LP]
26. BNQT – "Restart"
27. Funeral Advantage – "Please Help Me"
28. Japandroids – "Near To The Wild Heart Of Life"
29. Channels – "Airstrip One"
30. Pile – "Texas"
[ from their upcoming LP, "A Hairshirt of Purpose" ]
31. Chavez – "The Bully Boys"
32. Haunted Spurs – "Manhattan"
33. Scarce – "We'll Fall Down"
34. Allison Crutchfield – "I Don't Ever Wanna Leave California"
[ from her new Merge Records LP, "Tourist in This Town" ]
35. Family Scraps – "Mistakes"
36. Better Friends – "Graceland" (Paul Simon cover)
37. Toman – "They Storm In (No Knock)"
Remember, the next NMN happens on Monday, March 13th at the Once Lounge in Somerville. Check out the poster below, and RSVP at the Farcebook event page.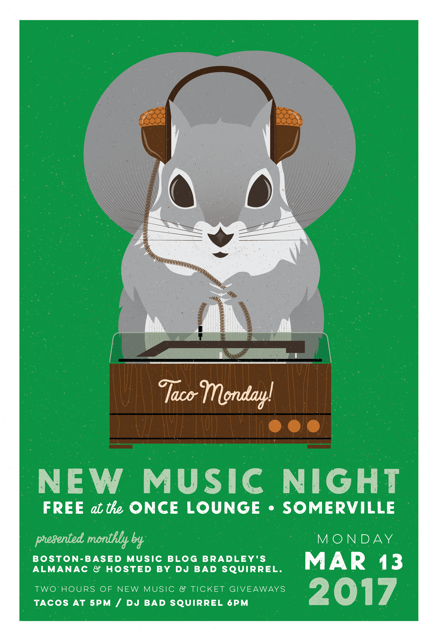 keep looking »